Sustainable Pittsburgh Announces Winners Of Sustainable Pittsburgh Challenge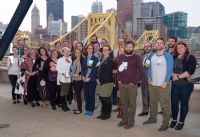 "Among this year's achievements is the collective energy savings achieved. Energy usage includes more than just electricity; it also includes natural gas and district steam.
"The aggregated savings by this year's participants are enough to power a whopping 7,978 average Pittsburgh single-family homes for one year. This translates to more than 80 million kWh of energy and $6,274,423 in cost savings!
"Participants also saved enough water to fill more than 30 Olympic-size swimming pools—or PNC Park to a depth of 28.1 feet (as high as a three-story building)! Water savings totaled more than 20 million gallons.
"Based on pre and post transportation surveys, participating organizations also avoided an average of 200 pounds of carbon dioxide emissions annually, per person."
FULL STORY published March 22, 2019 via PA Environment Digest