Featured Event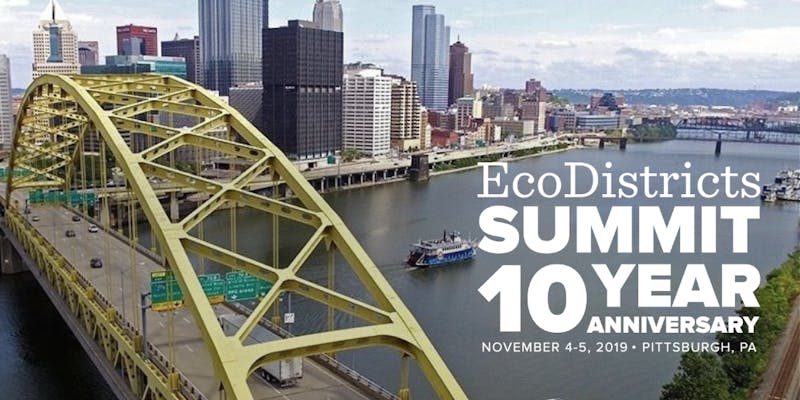 The city of Pittsburgh is home to the 10th annual EcoDistrict Summit, taking place November 4-5, 2019 in the August Wilson Center in downtown Pittsburgh.
Welcoming over 400 urban change-makers, the Summit focuses on creative and strategic collaboration to design the neighborhoods of the future while improving the communities of today.
Join Sustainable Pittsburgh and other community development professionals, green builders, municipal innovators, urban design and planning practitioners, neighborhood leaders and civic entrepreneurs at this dynamic two day event as we come together and focus on creating & maintaining neighborhood- and district-scale sustainability.
Local Government Academy's acclaimed Newly Elected Officials Course (NEOC) will once again provide three month-long training opportunities for elected officials new to their positions in November. A comprehensive program that gives elected officials a head start in all aspects of governing, participants will engage with leaders at the local, county, and state level, as well as academic professors and credentialed instructors from both the public and private sectors.
Preregistration is now open.
2019-2020 NEOC Schedule
November 16, 2019: Opening Day [Hilton DoubleTree Hotel, Green Tree]
December 7, 2019: Powers, Duties, Budget & Finance [CCAC North Campus, McCandless]
January 11, 2020: Public Sector HR & Emergency Management [Allegheny County Emergency Operations Center, Coraopolis]
January 18, 2020: Infrastructure & Public Works [Cranberry Township Public Safety Training Center, Cranberry Township]
February 8, 2020: Planning & Intergovernmental Cooperation [CCAC North Campus, McCandless]
February 15, 2020: Communication & Ethics [Robert Morris University Conference Center, Moon Township]
March 4, 2020: Graduation [Hilton DoubleTree Hotel, Green Tree]
Please share with your elected municipal officials and community leaders!
An exciting opportunity to share with residents: Sustainable Pittsburgh invites residents in your community to sign up to participate in the Home Energy Showcase, a competition hosted by fellow nonprofit partner CCI. The Showcase is a competition among homeowners in the region that highlights individuals making home updates to reduce their energy waste and model what's possible for others.
Help your community members save money on energy by sharing this on your social media or community newsletter!
For more information and to sign up, visit: GetEnergySmarter.org/Showcase
Deadline to sign up is Oct. 30.
News, Research, and Innovations
Next month, the Borough of Etna will become the world's first certified EcoDistrict at the 10th annual EcoDistricts Summit at the August Wilson African American Cultural Center in Downtown Pittsburgh.
The state is accepting applications for the 2020 Governor's Awards for Environmental Excellence from those who participated or led an environmental stewardship project, as well as all schools, nonprofits, businesses, farms, and government agencies
Pittsburgh has become the second U.S. city to incorporate United Nations Sustainable Development Goals into its practices, planning and policies, an initiative that will affect more than $4 billion worth of public and private projects in the region during the next 12 years.
Delegates represented manufacturers, major distributors, academic institutions, business associations, and investment managers, among others. They brought and benefitted from fresh ideas on how to leverage sustainable principles and practices in their own operations.