Ash Andrews (they/she) is the Executive Director of the Pittsburgh Center for Creative Reuse, a nonprofit located in Point Breeze that "inspires creativity, conservation, and community engagement through reuse." As a queer, nonbinary trans person and environmentalist, Ash works to focus intersectionality and environmental justice in everything they do. 
---
What does sustainability mean to you?
ANDREWS: Living in the present while caring about the future. What we do today affects our tomorrows, and the lives of people who exist after us. I care a whole heck of a lot about people – people today, people tomorrow – and I want to make sure that my actions are not getting in the way of anyone's right to thrive. There are so many folks living today who don't have what they need because people in the past didn't extend enough care to consider future generations. This lack of care manifests in humanity in so many ways – racism, sexism, transphobia, homophobia, ableism, xenophobia, and hate in all of its forms. It also manifests in the environment as climate change, the plastics crisis, over-extraction and overproduction, and so many other dire environmental issues. We are at this undeniable crescendo of humanity's impact on the environment and its own self, and we have to do something if we truly care about the people who will one day call us their ancestors.

In your experience, how has environmentalism intersected with the LGBTQIA+ community?
I grew up in a small town where, in the 90's and early 2000's, queer and trans lives were simply not discussed. As a child, I couldn't imagine who I could possibly become – I saw no options for myself in the community or in the media. Similarly, I didn't hear much about environmentalism beyond recycling, which was usually described using cartoon characters and make-believe scenarios. If only we had been taught these concepts using real people and real situations, perhaps I and so many of my peers could have felt like we belonged in this world, and that the things we cared deeply about actually did matter. I wish we had learned about the real effects that climate change has on communities, especially on communities of color. And I wish we had queer representation in our communities and media beyond a few white cisgender gay/lesbian celebrities. Both environmentalism and the queer community were pushed to the margins and made to feel as "other" as that word can possibly describe.
My hope is that, in today's world, communities of all types embrace, uplift, and amplify the stories and impact of queer and trans people. I hope that children find out that there are tons of queer adults who have survived oppressive childhoods, and who are now thriving, finding love (shout out to my extraordinarily lovely partner, Nichole), and making a very real difference in their communities. There is a future for you, and there is a future for this planet.

What's something about your work at Pittsburgh Center for Creative Reuse that makes you excited?
The fine bunch of folks who make up Pittsburgh Center for Creative Reuse are wildly creative. We endlessly experiment and challenge ourselves to operate in ways that transcend how a typical nonprofit exists. We strongly believe in a world where both queer people and the environment thrive, and where our BIPOC trans siblings are safe and celebrated, our marginalized communities are free from environmental racism, and humanity deeply cares about those outside their immediate communities.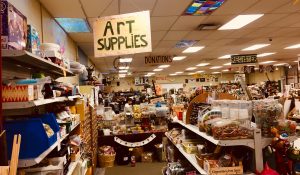 We at Creative Reuse believe that a better way is possible. I invite you to follow Creative Reuse on your favorite social media and keep an eye on the work we are doing – and then find a way to join us. We want you, and honestly, we need you if we all are going to be a part of the change we wish to see in the world. Volunteer, donate, shop with us, follow us on social media – there are so many ways to get involved to keep pushing for justice, peace, and equity for our people and our planet.

What is something readers can do right now to help further PCCR's mission for Pittsburgh?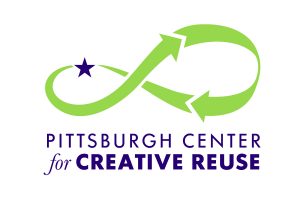 I challenge you to reuse one thing today – even if it's just something simple, like a mason jar filled with flowers from your yard or a scrap of fabric cut into strips and knotted into a friendship bracelet. (Both would make beautiful, meaningful presents for a special person in your life.) And then, share your project on social media and tag #CreativeReuseProjects and @creative_reuse. We believe in your creativity and your vision, and we want to celebrate you! We also believe that your work will inspire others and that you have the potential to change the world around you. If we all continue to take steps that matter – for our communities and for the environment – well then, heck, we're well on our way to a better world, friends.
Headshot By Thurner Photography