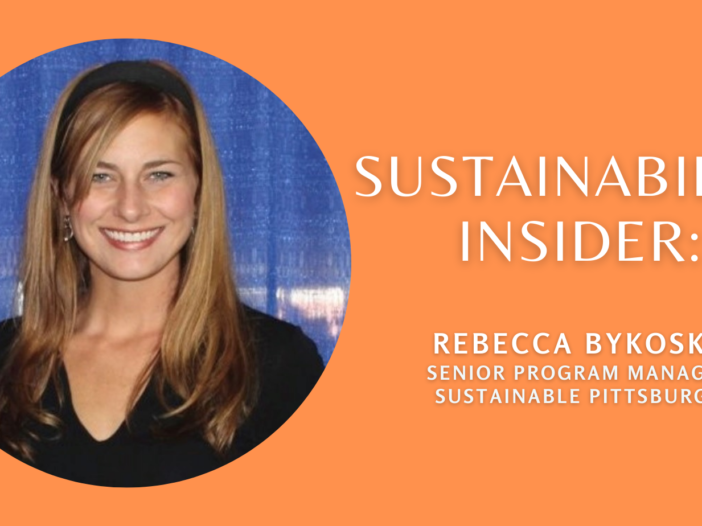 Rebecca joined Sustainable Pittsburgh in 2014 to develop and lead the Sustainable Pittsburgh Restaurant program. Through this performance program, she works with restaurants throughout the Pittsburgh region to gain recognition for their sustainability efforts, improve sustainability performance, and catalyze change within the regional food system. In addition, Rebecca has led other food sector projects such as Straw Forward, Steel Chef Cookoff, and Allegheny Eats and continues to lead the food systems work at the organization.
What does sustainability mean to you? 
BYKOSKI: To me sustainability means resilience, strength, support, and protection for the quality of life for residents, ecosystems, and communities. It's about building just, equitable systems that preserve our natural resources and bolster our economy. Sustainability invigorates life and helps us to restore and rebuild our processes, sometimes changing our course of action to protect the fragility of life that surrounds us, both for the short and long term. It is intentional, impactful, and regenerative.   
What's something about your work that makes you excited?
Of all things, I love the intentionality of my work the most. With that, I am afforded many opportunities to be creative, actionable, and collaborative with programs and projects that drive for lasting impact within our food system. Over the past year and half, we experienced many breakages within our food chain. In addition, systemic issues that have been in existence for what seems like ages were brought to the surface and exposed. For example, the struggles and uncertainty for our restaurant industry and local farms, the increase in food insecurity brought on by the pandemic, and the lack of equity in resources are just a few, however the essence of goodness within our communities was a driver that enabled us to band together to care for and continue to support one another – which is all part of my work. 
What sustainability work is happening in Pittsburgh that isn't getting enough attention?
I think the strong efforts of many of our region's restaurants to care for the environment, their communities, and support our local economies is something that often gets left out of the conversation. We are attracted to the beauty of food these businesses prepare for us and their delicious dishes, which is what is used most often to guide our dining choices. However, there are a lot of our local restaurants taking actions to build the industry better – such as supporting the vitality of our farming community by purchasing local products, raising the bar on care for employees by paying a fair wage, providing healthcare and sick leave, and paths to career advancement, improving food access by providing nutritious meals and cooking instruction to people in need, or making responsible choices when it comes to the types of packaging they use. So, in addition to eating deliciously, it's entirely possible to also eat sustainability to support the good work of these restaurants, and that should always be in the conversation. 
What is something we can all do right now to support sustainability in our food system?
There are so many things one can do to support food system sustainability. Here are some suggestions to get started: