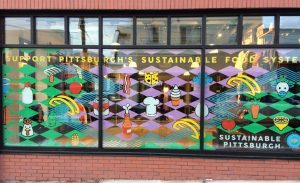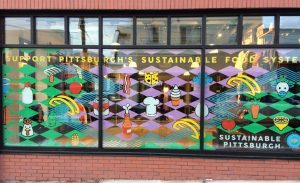 Pittsburgh is increasingly recognized as a community where business success goes hand in hand with serving a public purpose.  We consumers increasingly want to align our values with our spending.  Businesses increasingly get this.
A recent newcomer with their first store here, Patagonia exemplifies global corporate social responsibility.  Here in Pittsburgh, the Patagonia store in Shadyside is receiving a warm welcome in step with Patagonia's commitment to driving change.  In his book, "Let My People Go Surfing," Patagonia founder Yvon Chouinard describes how the company built its success on the mantra of "doing well by doing right."
At Sustainable Pittsburgh, we have enjoyed getting to know the Patagonia team and experience their genuine honoring of the Chouinard code.  Last week we were pleased to partner with Patagonia for their grand opening celebration.  Focused on raising awareness of sustainability in food systems, the party benefitted the Sustainable Pittsburgh Restaurant performance program, whose purpose is to transform the region's foodie movement into the leading sustainable foodie revolution.
Some 700 friends and supporters turned out to enjoy fantastic food from Sustainable Pittsburgh Restaurants Franktuary and Millie's Homemade Ice Cream, live music, and pours from Grist House Craft Brewery.  A big thank you to Patagonia Pittsburgh for an exceptional event!  And our humble thanks to all who contributed to support Sustainable Pittsburgh and our work to create a more equitable, healthy region where all can prosper.
The party was a great example of public charity/private enterprise coming together with a strong message.  Throughout the evening, participants engaged with the Sustainable Pittsburgh team and partners including Pennsylvania Resources Council and 412 Food Rescue, who made for a lively and educational evening.  We're grateful to our partners and all who participated in the fun, memorable event.